Hey everyone,
I hope you all are doing well. We are still trying to stay dry and not get cabin fever. ;) How's the weather in your neck of the woods?
There isn't much new to update on. John's schedule is up in the air right now, so I have been mentally preparing myself for whatever that could bring. I've been on and off getting ideas for Declan's upcoming birthday. (Since this will be his first birthday, we decided to have 2 small parties, one in Georgia and one in Virginia. We know that there will be family and friends that will want to attend and we hope that this will make it easier on them. I don't think we will do this every year. I guess we will just have to see how this year goes!) It seems like a crazy idea right now. I hope I can pull all of this together. I am also looking into our little family vacation. I think that since Declan is so small, we will probably be taking a day trip while we are in GA in August. (I already have an idea of where we will be going!) More details on all of this soon. ;)
This week I'm thankful for:
* The rain and the sun- I know that all of the plants around here are happy. We have had plenty of rain in the last couple of days and everything is looking very green! I am also happy to see the sun, when it makes it's brief appearances. I don't mind all the rain, but I would prefer it be a little more spread out than this. I'm sure all of you that live in places that have a lot of rain are just acclimated to it. I'm not sure that it would be very easy for me to do that.
*Music- I used to listen to music for hours on in. I then went through a phase where I didn't want to listen to much of anything. This week, it has been nice to listen and really enjoy music again.
* Baby Vick's Vapo Rub- I'm so glad that I can do something to help Declan breathe easier!
* Post Baby diet- I found a post baby diet on Baby Center yesterday and I'm trying to stick to it. It looks do-able and I hope that I can really incorporate more veggies and fruits in my diet and less junk!
*All of the great women in my life. Be sure to check out the Mother's Day tributes I wrote last year. :) Here and Here
What are you thankful for this week?
***Don't forget about my Conscious Box Giveaway! If you love trying new products (and for free), this is a giveaway for you. A box of healthy snacks shipped right to your door and free. Deadline for entries is May 15th. Don't delay, enter today! :D ***
***Thinking about switching over to WordPress. Let me know what you think? Here.
<3 anna
I'm may be linking up with: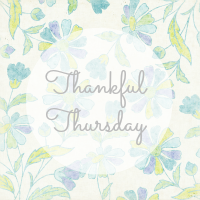 http://yaknowstuff.blogspot.com/