Hey all!
HAPPY THURSDAY (Which means it's almost Friday! I'm sure we can all be thankful for that, another wonderful weekend to enjoy!)
This week I'm thankful for (in no particular order):
*
Couponing and SouthernSavers.com
I have gotten back into couponing and took a free coupon class. (I promise I'll be getting a post up on that very soon and let you all know how I did on my first jump back into couponing!)
*
Learning to live a healthy life style and sticking to it!
I'm learning all about clean eating. I will start my journey in this on Friday. I have had many (too many) failures with eating, but this time I hope it will be different. I know I will have bad days, but I'm more determined to get this part of my life right. I have a lot to learn and I will be sharing with you all as I go along.
*
Supportive friends
It's so amazing having friends with open hearts and open ears. I'm so grateful for that. I have never been the most popular girl, but I am so thankful for my real, true blue friends. ;)
*
Family
I'm so thankful for my wonderful family. I'm so excited about upcoming plans and getting to see everyone again. My MIL AND SFIL are visiting this weekend and the weekend after next my mom and sisters will be up for a visit. I will also get to see some wonderful friends then as well. Good times ahead!
*
Blog friends
You all are awesome! I'm so thankful for your sweet comments and advice. I especially want to thank those that took the time to comment on my post about WordPress. I will be making the move there soon. I'm sure it will be a gradual process, since I have a lot to learn!
What are you thankful for this week? Comment below!
I might be linking up with: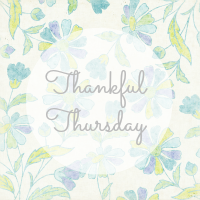 http://yaknowstuff.blogspot.com/