Hey guys,
I'm happy to be returning to the Thankful Thursday link-up with Cami! I hope to get to where I can add my post to other bloggers link-ups as well, but baby steps for now. Speaking of babies, D is my life right now. I'm working on figuring out this whole parenthood thing...it's definitely an adventure thus far!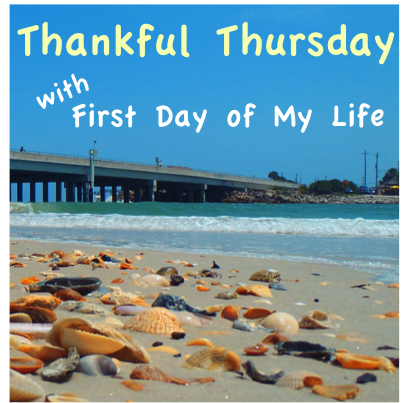 So this week I'm thankful for:
* If you are not a friend of mine on fb, you probably don't know that my youngest sister was in a bad car accident---the Saturday before last. She had to undergo exploratory surgery due to a tear in her intestines. She was released from the hospital this past Sunday and I'm so thrilled that she is home and recovering. I'm thanking God that she was wearing a seat belt and every day brings her a step closer to getting back to her normal activities.
* John and I are finding our new normal. Parenthood is no joke and those that think being a SAHM is easy, I would like to hit them with a stupid stick. Yesterday for example, I spent most of the day nursing, changing diapers, and trying to console a baby who didn't want any of it. I thank God today is a better day for him and for me. ;)
* Our wonderful friends, the Harrisons are visiting this weekend. They get to finally meet Declan...yay! John's father and step mother are stopping by on Saturday as well. It is so great to get to see family and friends again. :)
*Tomorrow marks 7 years with John.
* Jesus Calling by Sarah Young...good stuff!
* John's mom has gotten me in the habit of leaving the radio on our local christian music station...it's great to hear encouragement throughout the day.
* My wonderful husband. I don't know what I would do without him. He has been such a HUGE help to me!
* My sweet boy---I love him so, even in the moments where I have no idea, I wouldn't trade it for the world.
* I'm so thankful for the encouraging words from family and friends. I eat praise for breakfast...lol. People don't realize how much that can mean. I beat myself up a lot over stupid things---like the fact that I have dirty dishes in the sink and a mountain of clothes to fold. So for those of you who have offered encouragement. Thank you! It means more than you know!
Well that's all for this week, what are you thankful for?
<3 anna3>