Hey guys!
I'm posting this kinda late, but really wanted to participate this week! So if you are reading this, thanks!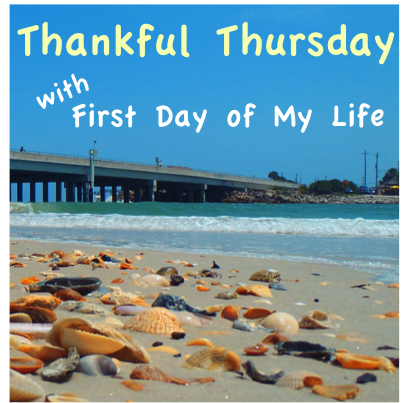 Today I'm thankful for:
*My family visiting this weekend. It will be the second weekend in a row that I've seen them. I can't remember the last time that happened!
*My awesome husband helping me catch up on the household chores. (I've been pretty exhausted this week and haven't been sleeping all that well. :/)
* All of our packages arriving this week. We got some goodies for Sophie, my Mother's Day present came in and John's Father's Day present. John got me this neat book on drawing and a wine glass that says "Mommy's Sippy Cup" I love it!
*I have a few friends who have taken me up on being pen pals. I'm excited about that! If any of my blog friends want to be pen pals, just let me know. I don't expect a letter everyday or even every week, just as long as I get a response. <3
*I was having a hard time sleeping the other day, and I had this amazing dream where I shared a kiss with this man. I wasn't married in the dream and I told hubby about it and he got a good laugh from it.
What are you thankful for this week?
<3 Anna