Hey guys,
This week I've been working on catching up on things around the house. My to-do list is just a little bit ridiculous right now. I'm quickly learning as a mom that there is always some project left unfinished. There are always clothes in the hamper and that brief 5 minutes (seriously?!) that it's empty are bliss. This is hard for a perfectionist like me, but I'm learning to manage and prioritize my life. It's a good thing too, because it makes my down time a lot less stressful. Also I'm sorry I have been slack on visiting your blogs and commenting. I'm working on that. I promise. :)
So now that I have gotten that out of my system, it's time to think on what I have to be thankful for this week.
*
I'm thankful for time.
I'm thankful for the moments, however, brief they are to just relax. I'm thankful for the crazy chaotic moments with my son. I'm thankful for the beautiful snuggly moments with him too. ;) I'm thankful for sweet hugs from my husband and coffee waiting for me this morning. Yep, he is that awesome and sweet. I'm convinced I married the best. ;) Sweet moments to play with my crazy pup. Yep, she's 4 and still a pup and that will never change. <3 b="">
3>
*Opportunities.
I'm thankful for opportunities to share my faith and my blog with others. I'm thankful for companies that are interested in my blog for giveaways and product reviews. I'm thankful for those loyal readers who have contributed to these opportunities.
*
Family dinners.
Tonight we will be enjoying a meal with my Father-in-law and Step-Mother-in-law. I look forward to catching up with them and watching them marvel at how much my sweet baby boy has grown!
*
Southern Savers.
I'm thankful for this website because I'm getting back into couponing and it has been a wonderful resource. Do you coupon? Any recommendations on websites? Tips or tricks?
What are you thankful for this week?
I'm linking up with: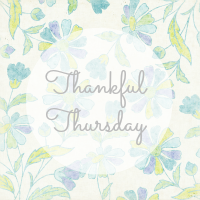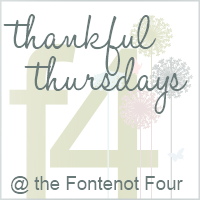 <3 anna3>