Hey guys!
It's time for another Thankful Thursday with
Miss Cami
! :) There is so much to be thankful for this week!
"It is necessary, then, to cultivate the habit of being
grateful
for every good thing that comes to you, and to give thanks continuously. And because all things have contributed to your advancement, you should include all things in your
gratitude
." -
Wallace D. Wattles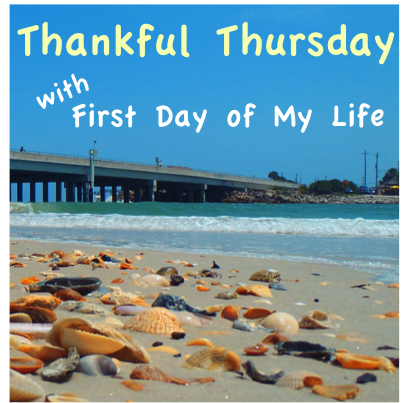 I'm thankful for:
* A wonderful weekend with family.
Jake (Jess' bf), John, and Sophie enjoying the creek.
Jess and mom (Jess took all of these pictures btw.)
Me (almost) 24 weeks pregnant!
Love this one!
Sophie's favorite spot!
* My healthy baby boy. Yesterday I was tapping on my stomach and he kicked back a couple of times. It was so sweet, it was like we were playing a game together. :)
* My summer bucket list! I'm enjoying working on crossing things off.
*Pinterest! My obsession has been reignited. Tonight I'll be looking through my recipes on there and working on our grocery list...yay for trying new things!
*John has the whole weekend off!
* Planning our upcoming vacation in July.
* One of my best friends, Stephanie, is expecting! She is due January 4, 2013! I'm so excited for her and so glad that she doesn't live too far away. Yay, for future play dates! :)
* Making an event for our first baby shower (my mom is hosting) in July. It's so fun to think about getting together with family and friends and celebrating Declan's upcoming arrival!
<3 Anna