Hey guys!
Thursday (Yes, I know I've been posting these on Wednesday...that's just been the way my posting has worked lately!) has become one of my favorite days! I really love taking the time to type out what I'm thankful for and I think it's an excellent exercise for everyone.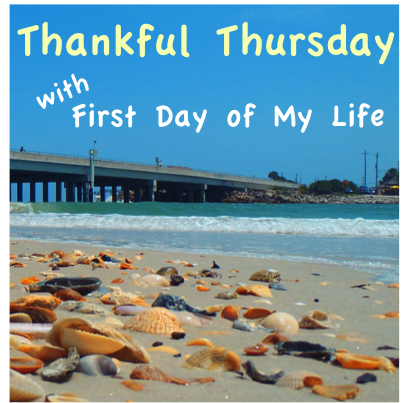 Today I'm thankful for:
God putting it on my heart to get my priorities straight. I'm not perfect, I'll constantly be a work in progress...BUT it feels great when I make efforts to improve my life. I'm re-learning not to worry so much and to lean on God for strength.
My wonderful husband. I know I brag on him A LOT...but he totally deserves it! :)
Around midnight I got to feel our baby kick for the first time! It was the most amazing experience! I can't even describe it.
My eyes are being open to so many things lately. It feels good and scary to gain this awareness.
John and I will be leaving Friday to see some amazing people! We are so looking forward to it!
We are also very appreciative of the fact that John's aunt can watch Sophie. She also has a dog, so Sophie will have a blast.
I get to meet my youngest sister's new yorkie puppy. I can't wait to cuddle and play with that cutie! Hopefully, Sophie won't be too jealous!
And me saying that...I get to see family on Sunday! Good food and family...good times!
Last and certainly not least...I'm thankful to God for sending His son to die for me.
"And Jesus Christ our Lord was shown to be the Son of God when God powerfully raised him from the dead by means of the Holy Spirit. Through Christ, God has given us the privilege and authority to tell Gentiles everywhere what God has done for them, so that they will believe and obey him, bringing glory to his name." Roman 1:4-5
(NLT)
<3 Anna