Hey guys!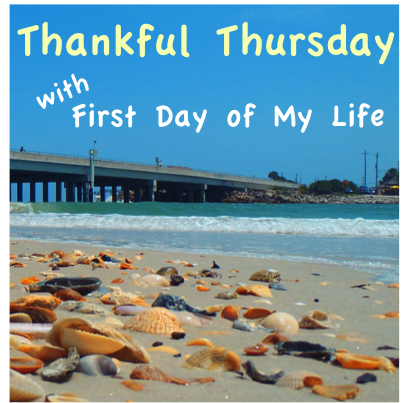 Today I'm linking up with Cami for my first Thankful Thursday. I'm really excited about adding this as an edition to my blog because it's a goal of mine to be more positive. There are so many benefits to being positive and I want to see those in my own life. Just as I'm sure you would yours.
Today I'm thankful for:
This beautiful day. It went from being sunny and hot to a gentle rain and that has cooled us down. I love it!
My health and a healthy baby! Yesterday we heard Baby Bean's heartbeat again and got to see a bit of his/her personality. He/she kept moving away from the heart monitor. It was pretty funny.
We will learn Baby Bean's gender by the end of April!
No more nausea! John is cooking right now and I'm not running to another room. I think I'll be back in the kitchen very soon! Yay!
I was able to go for a walk yesterday and it was nice to be able to be out and getting my energy back.
I've gotten a lot of great suggestions this week on how to stay hydrated. Thanks for those!
Sweet texts from a dear friend, I hadn't talked to her in awhile it was great hearing from her!
I have the sweetest dog, she has been especially loving lately. (It's like she knows I'm pregnant! lol)
I love our new home. Hickory is so beautiful! I'm so glad we were given the opportunity to live here.
My wonderful husband, I feel I love him more and more each day. :)
<3 Anna